Frank Forde was Prime Minister for only eight days, from 6–13 July 1945. He assumed the interim prime ministership after the death in office of John Curtin and held it until the election of Ben Chifley as Leader of the Australian Labor Party. Overall, Frank Forde was Deputy Prime Minister over a period of nine years to James Scullin, John Curtin and Ben Chifley, proving himself both loyal and diligent in his service to the Labor Party and its leaders.
A glimpse of the PM in the press . . .
In the final weeks preceding Mr Curtin's death, the press speculated over his likely successor, with the main contenders being Frank Forde and Ben Chifley.
Mr Forde would seem the obvious party choice for the job. He is an experienced politician with plenty of platform fluency, capable of leading an election campaign.
Whether or not the party considers him a big enough man for the job is another matter. Only concerns about the election (to be held in 1946) and not disatisfaction with Mr Forde personally would lead a majority of the party to look for a different leader. 1

Mr. Forde has a considerable following in the Caucus and his standing within the party was enhanced greatly by his handling of the Acting Prime Ministership when Mr. Curtin became seriously ill last year. 2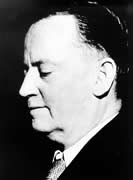 Portrait of Prime Minister Frank Forde
John Curtin Prime Ministerial Library. Records of the Government Photographic Service. Rt Hon Francis Michael Forde (1890-1983) Prime Minister for a few days in July 1945. JCPML00036/14